When users decide to cancel their memberships, one way to change their minds is to offer them a discount if they decide to continue.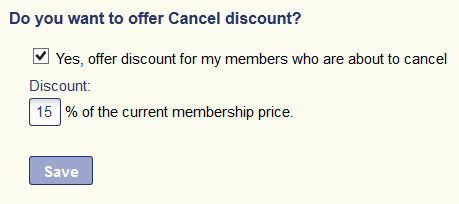 Now there is a way to do this easily with Verotel. All you need to do is configure the "Offer a discount to canceling members" option in the website detail. Here, you can set the discount ( allowed range of 10 – 50%) which will be applied to the rebill price if the user decides to continue his/her membership.
The discount is only offered when the user confirms the cancellation.
When the user accepts the discount offer, then his/her future rebills will use this discounted price.
The next time the user decides to cancel, the discount will not be offered again.
If the discount offer is not accepted, the rebill cancellation is performed, even if the page is just closed or left open without any further action.

If page is left open without any further action, then in 15 minutes the user is redirected to the page that would appear after confirming cancellation (and the rebill is cancelled).
If the user closes the page, the cancellation is performed by a background process after 30 minutes.
If the user repeats the cancellation within the "cancel pending" period he/she would be offered the discount again.
This is how the user will see the offer: