Streamlining headset distribution solves the chicken-or-the-egg problem for the growing adult VR industry.
AMSTERDAM, NETHERLANDS – May 31st 2016. Verotel, the payment facilitator based in Amsterdam, Netherlands, has started to distribute Virtual Reality cardboard headsets to customers of its merchants offering VR content. The Verotel cardboard headsets can be used in conjunction with a smart phone to view recorded or live VR content. Since these headsets are neutrally branded and shipped in discreet packaging, they allow a larger audience access to adult VR content and create a higher revenue stream for the merchants.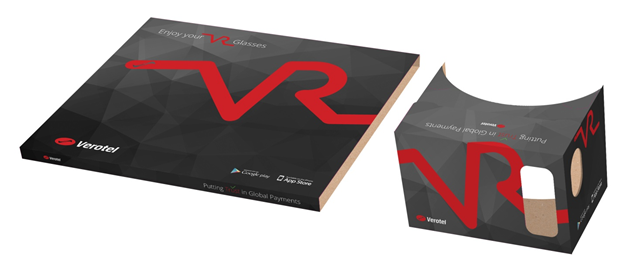 Since its introduction in 2014, VR cardboard headsets have found few practical uses because of the classic chicken-or-the-egg problem. Now that high-resolution smart phones are more widely available, more and more people are able to consume VR content with the help of a simple cardboard box. Increasing the availability of these headsets will boost the VR content production industry.
"For centuries, man has imagined other worlds. From legends and tales, to movies or video games and we have tried to bring ourselves to other realities", says Mike Kovalsky of the website virtualrealporn.com. "We believe that VR is a revolution in the world of entertainment because it is the first time that video really makes you feel like you're in another place. This is a totally new, immersive and spectacular experience."
Until now, the process of getting those VR headsets to consumers was often discouraging. In order to deliver the cardboard boxes to the consumer's door, online merchants needed to develop a specific ordering and shipping process or send their visitors to an external website. This dramatically affects conversion and profitability. With Verotel's seamless integration within the order page, all of its merchants are able to deliver the VR headsets in a non-intrusive way, improving the further demand for VR content. The management of vrsexperience.com quotes: "VR is a game changer for the adult industry. It takes only seconds to realize how different and immersive it is. By shipping VR headsets directly to my customers, Verotel makes it simple and discreet for everyone to access VR content."
The new VR headset distribution service is available from today for all Verotel merchants offering VR content. As an extra incentive, Verotel also invites VR-only merchants to join its VR Pioneer Program and benefit from free cardboard distribution for all of their customers. As a first-day supporter of VR technology, Verotel is betting that the widespread distribution of VR headsets will have a positive effect on the industry as a whole.
About Verotel: Verotel Merchant Services B.V. is an internet payment service provider based in Amsterdam, Netherlands. It is registered and regulated as Payment Institution with the Dutch Central Bank, as Payment Facilitator with MasterCard and Merchant Agent with VISA. Verotel started its business in 1997 in San Francisco, California and moved its headquarters to the Netherlands in 2001.
Contact: Alex Foster
Phone: +31 20 5315757
Email: sales@verotel.com